HMINOX
Stainless Steel Seamless Pipe
0
stars, based on
0
reviews
Price:
$4000.00$3800.00 / metric ton
Contact Us
Professional stainless steel piping products stockist,supplier,manufactuer from China
01). Commodity name: Stainless Steel Seamless Pipe, Seamless Stainless Steel Pipe
02). Production process methods: cold dawning, cold rolling
03). Surface condition: annealed and pickled, grey white (polished)
04). Delivery conditions: Solution annealed, pickled, grey white, with plain ends/bevel edges ends
05).Standards:ASTMA213, ASTMA312, ASTM A269, ASTMA511, ASTM A789, ASTM A790,
GOST 9941, GOST 9940, DIN17456, DIN17458, EN10216-5, EN17440, JISG3459, JIS3463,
GB/T13296, GB/T14976, GB/T14975, GB9948, GB5310, etc.,
6).Grades: 304 ,304L, TP304/304L,304H,304N,316,316L,TP316/316L, 316Ti,317L,310S,321,321H,
347H, S31803, S32750, 347,330,825,904L,12X18H9, 08X18H10, 03X18H11, 08X18H10T, 20X25H20C2, 08X17H13M2T, 08X18H12E.1.4301, 1.4306, 1.4401, 1.4404, 1.4435, 1.4541, 1.4571, 1.4563, 1.4462, 1.4845,SUS304, SUS304L, SUS316, SUS316L, SUS321, SUS310S etc.
07). Size:
A).Out diameter: ANSI 1/8"-24"(6mm-630mm).
B).Wall thickness: ANSI 5S-160S (0.9mm-30mm)
08). Length: 5-7 Radom Length; 6Meters; 1-14 Meter fixed length.
09). Delivery conditions: solution annealed, pickled, gray white, with plain ends, Beveled Ends
10). Applications: petroleum, chemical industry, chemical fiber, smelt, medical machinery, papermaking, Heat preservation and refrigeration, mechanical equipment, food, electricity, water conservancy, architecture, aerospace, navigation shipbuilding, environmental protection and boiler heat exchanger
11).Packing: in wooden cases or in bundles
12). Min order quantity: 500KG
13). Delivery date: 7 days for Stock; 45-60 days for order.
14). Certificates: ISO9001:2000 quality system, BV, TUV, LLOYDS, DNV, SGS, etc.
The third party inspection is available
15). Testing: Direct-reading Spectrum Instrument analytic for chemical composition, Yield Strength, Tensile Strength, Elongation, Hardness Test, Flattening Test, Flaring Test, Eddy Current Test, Ultrasonic Test, Hydrostatic Test, Corrosion Test, etc.
Frequently Asked Questions (FAQ):
Q: What is the process of stainless steel seamless pipes or how do you produce seamless stainless steel pipes?
A: see below photo: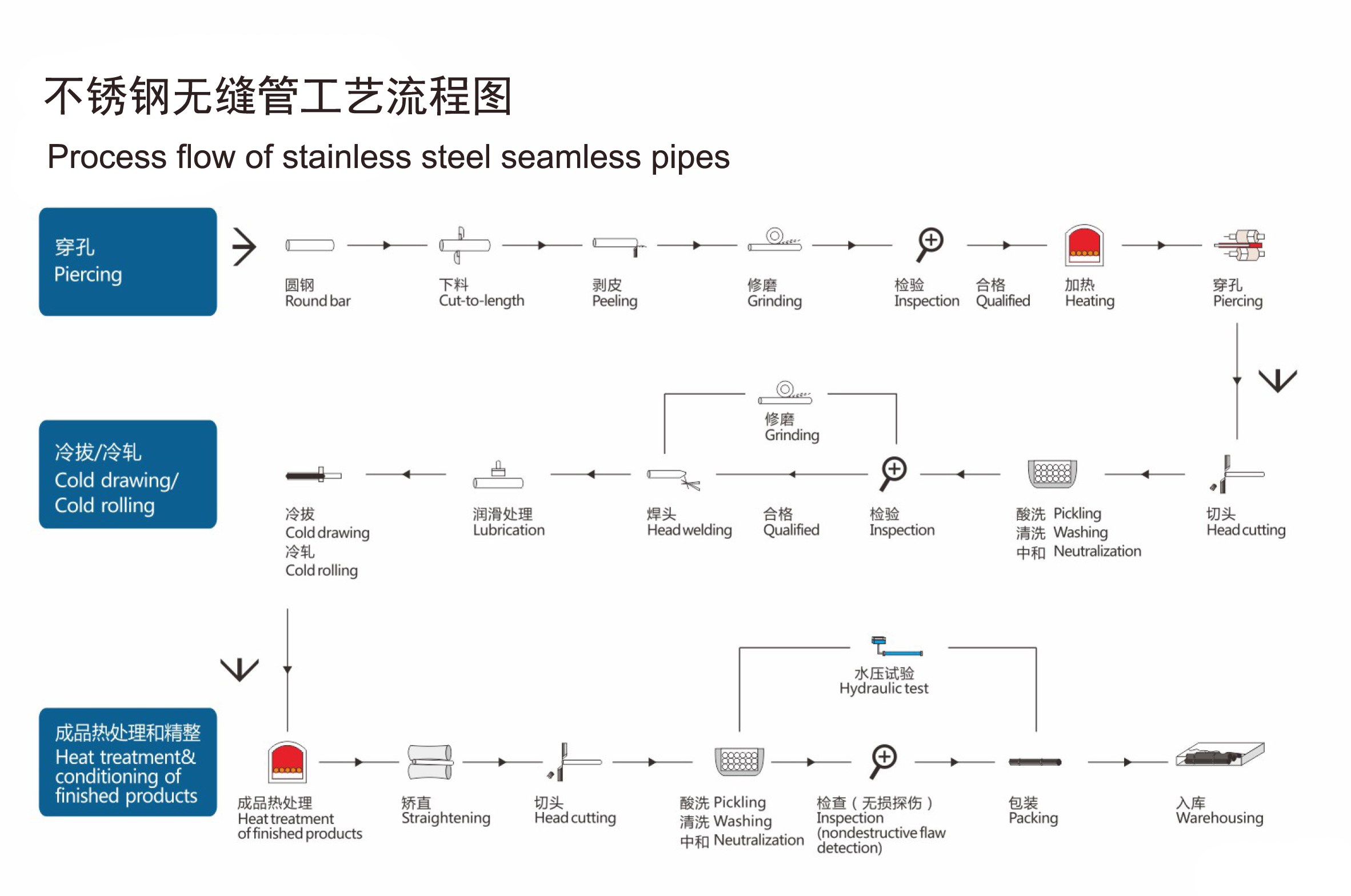 Stainless Steel Pipe Fittings